Call for Applications - SozialMarie 2013
We are, again, looking for people who run projects that respond with innovative solutions to changing socio-political conditions.
SozialMarie in 2013 will honour social innovation for the ninth time 'round. The aim of SozialMarie is to make innovative social ideas known to a broad public and to support networking between socially innovative projects. Award winning projects are to inspire imitation and to incite further development of their ideas.
As of the beginning of March 2013, all nominated projects – a maximum of 37 – will be published on our website www.sozialmarie.org. As usual, the 15 actual award winning projects will be announced only on 1st of May at the Award Ceremony.

NEW: Projects from anywhere in the Czech Republic can now apply
SozialMarie strengthens its Central European focus: projects active anywhere in the Czech Republic, Hungary or Austria can now apply – plus projects no further than 300 km away from Vienna in Slovakia, Poland, Croatia, Slovenia and Germany.

SozialMarie Audience Award
A SozialMarie Audience Award will be given out for the second time in 2013. This time, three projects will win – one each from the Czech Republic, Hungary and Austria. The awards will go to the projects that obtain the most votes from the audience. You are invited to participate in the vote between 26th of February and 25th of March 2013 on our website.

Active patronage: Gabriele Zuna-Kratky (Austria), András Ujlaky (Hungary), Táňa Fischerová (Czech Republic)
The task of SozialMarie patrons consists in accompanying and/or supporting one of the prize winning projects over the following year.
Gabriele Zuna-Kratky, director of of the Technical Museum in Vienna, is the Austrian patron. Gabriele Zuna-Kratky is convinced that "sustainable initiatives like SozialMarie can achieve great things because unfortunately, social projects have become more and more necessary over the last few years in order to ease human suffering. The patronage and the support of one of the coming projects is dear to my heart indeed."
The economist András Ujlaky is this year's Hungarian patron. "Ever since I retired from the world of business, what interests me most are social and community problems that arise in connection with the emancipation of the Roma. I have come to know that purposefulness and focus – so common in the world of business – are in short supply in this sector. I will readily put my experience to the disposal of a project that has been awarded a prize by as distinguished an organisation as SozialMarie."
Táňa Fischerová is actress, author, moderator, politician, civil rights activist. For the parliamentary elections of 2010, she was at the head of the so called Key Movement that still nowadays campaigns for a return of ideals, esprit and ethics into politics and real life and develops alternatives to present-day politics, economics and the role of the individual in society. SozialMarie's objective of looking for innovative social projects in all of Central Europe, document them, make them visible, appreciate and support them impressed her, so she decided spontaneously to become SozialMarie´s first Czech patron.

Are invited to submit:
All projects that deal with present day social problems – in a way that sets trends for the future – are invited to submit. The projects must have been sufficiently tested in the real world and they must have a future – they must already be sufficiently implemented at the time of submission and they must still be running. It is the project that is to be submitted and not the project bearing institution.
Eligible for submission are projects of the: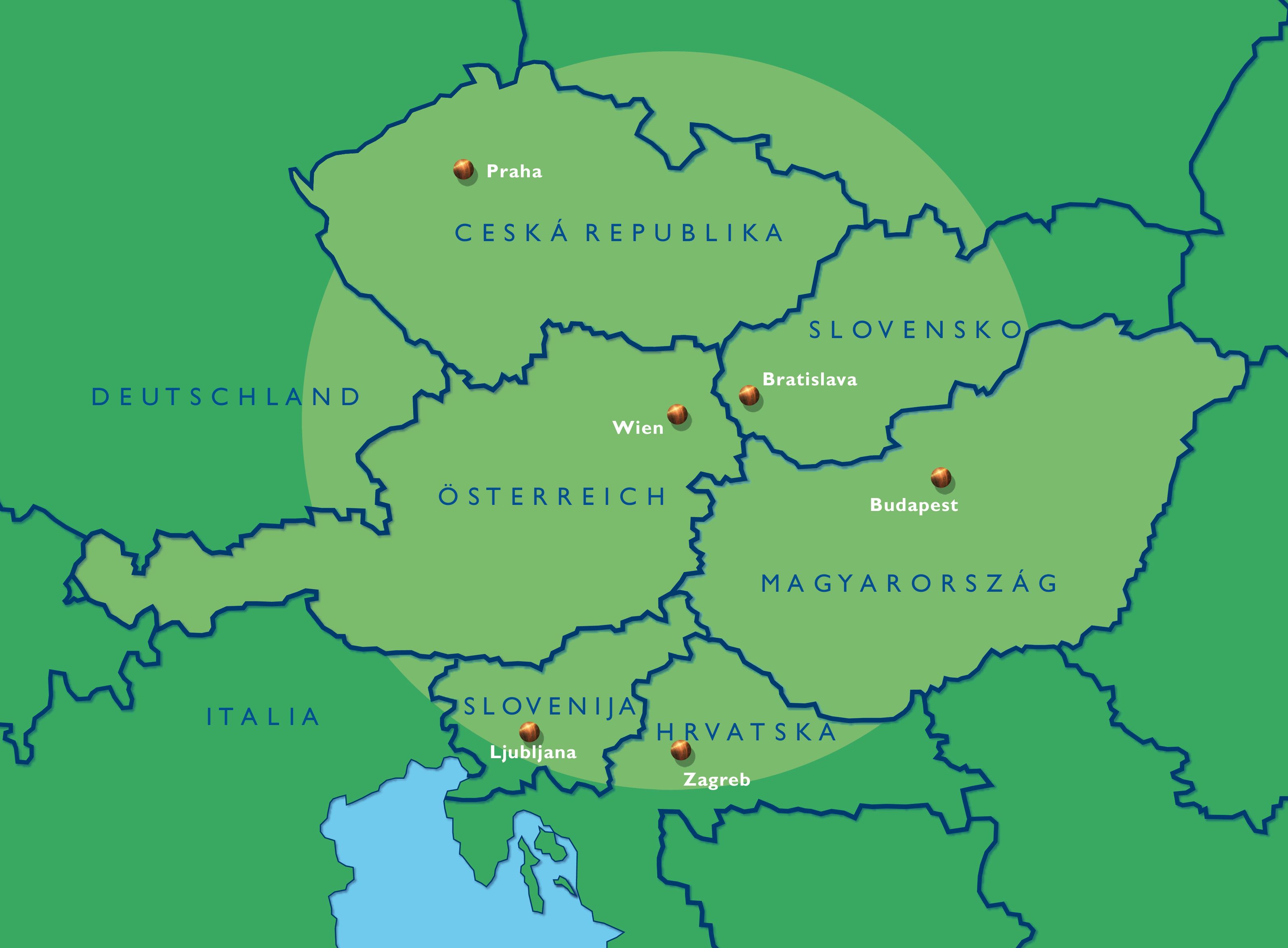 • social economy (civil society initiatives, NGOs, NPOs, associations)
• public administration
• private sector
Eligible for submission are projects from anywhere in Austria, Hungary and the Czech Republic. In Slovakia, Poland, Croatia, Slovenia and Germany for practical reasons projects must not be more than 300km (as the crow flies) away from Vienna.

Submission modalities, time limit, selection procedure
Submission is possible from Thursday 15th of November 2012 onwards. All relevant documents for participation must be submitted online on the SozialMarie website by Tuesday 5th of February 2013 at 24h00 at the very latest. Please do not submit the institution that carries out the project, but the project itself.
Selection of the winning projects happens in three phases. At first submitted documents will be reviewed to ensure that criteria are satisfied. Open questions can at this stage be addressed by telephone or email. Out of the projects submitted from Hungary, our Hungarian project evaluators Prof András Kelen and Nóra Somlyódy will select projects for a shortlist. Veronika Janyrova and Petra Abrahamova will be responsible for the pre-selection of the Czech projects.
From these shortlists and the other submitted projects Anna Thier and Bernhard Litschauer-Hofer together with the jury coordinator Petra Radeschnig MA will pre-select 25 projects for the jury. Each member of the jury can then nominate two further projects.
Out of these pre-selected 37 (at most) projects, the jury will then in a first round determine the 15 prize winning projects. Following this, the six or seven projects deemed most worthy of one of the three main prizes will be visited on site. After this, the jury will in a final round choose the three top prizes and the twelve 1,000 Euro-prizes.
Jury decisions are consensual. The jury's decisions are not contestable and there is no possibility of recourse to legal action.
Please complete the application form in German or English and submit it in time online. Projects from Hungary and the Czech Republic are to complete the form in Hungarian respectively Czech and enclose an English or German translation.
More on submission requirements here
Link to the application form

Criteria
In the evaluation and ranking of submitted projects the jury will award high marks according to the following criteria:
1. Innovation in Project Idea - Novelty
• Does the project embody a new social approach or offer new solutions?
• Is the project about new ways of looking at a social problem?
• Does the project address target groups that have previously received little attention?
2. Innovation in Accessing Target Groups - Involvement
• What is the concrete and enduring use of the project for the target group?
• Does the project further the potential of the target group?
• Does the project contribute to society's esteem for the target group?
3. Innovation in the Realisation of the Project - Effectiveness
• Does project realisation happen in an inventive, resourceful, creative and courageous way?
• What effects – and on who – of this social innovation can be observed?
• Does the project change with changing needs? For example as to the target group, the way of approaching the issue, or a changing project environment?
• Is there cooperation between different disciplines / competencies / professional groups?
4. Innovation in Public Perception – Serving as an Example
• How is the project integrated into local and regional environments?
• Does the project foster dialogue / cooperation with other institutions / organisations?
• Have other organisations, media, sponsors, politicians been made curious?
• Have new paths been taken in dealing with the "Outside world"?
The criteria 1 (Project Idea), 2 (Accessing the Target Group) and 3 (Realisation) will have twice the weight of criterion 4 (Innovation in Public Perception) in the jury's decisions.

Members of the Jury
Univ.Doz. Dr. Josef Hochgerner (Zentrum für Soziale Innovation), Anna Kadeřábková (University of Economic Sciences, Prague), Éva Judit Kovács (Institute of Sociology of the Hungarian Academy of Sciences), OMR DSA Sepp Schmidt, Marlies Sutterlüty MA (Fachhochschule Campus Wien) and Barbara van Melle (freelance Journalist)
Coordination: Petra Radeschnig MA

Award Ceremony
15 prizes with a total worth of 42,000 Euro!
Every year, outstanding socially innovative projects that strike by their innovative force and creativity compete for one of the 15 prizes endowed with 15,000 Euro (1st prize), 10,000 Euro (2nd prize), 5,000 Euro (3rd prize) and 1,000 Euro (12 prizes).
The public award ceremony will take place on Wednesday 1st of May 2013 at 18h00 in the Large Auditorium of ORF Radio Kulturhaus, Argentinierstraße 30a, 1040 Vienna.

The Foundation
Promotion of art, science, research and innovation has moulded the activities of Unruhe Privatstiftung (Unruhe Private Foundation) since its establishment in March 2000.
Since 2005, Unruhe Private Foundation has every year awarded the SozialMarie prizes. Since 2011, Unruhe Private Foundation together with five other Austrian private foundations jointly develop and implement social projects. This initiative "Sinnstifter" (Founders of Sense) wants to be a visible sign that a general revision of thinking towards a collective social commitment is taking place. The newest project of Unruhe Private Foundation, Pimp Your Life, is an explorative experiment dedicated to the (re-)inclusion of excluded, educationally disadvantaged youths.

Contact
Nóra Somlyódy
SozialMarie coordinator
sozialmarie@sozialmarie.org
+43 (1) 587 71 81-11
+36 (30) 268 1366
Fax: +43 (1) 587 71 81-19
www.sozialmarie.org
Mittersteig 13/6, A-1040 Vienna, Austria